Speaker Series
The Speaker Series brings together UC Berkeley Faculty, Berkeley Advanced Media Institute master instructors, and subject matter experts to elevate and refine your digital media practice. These free, virtual events center around a range of topics, many examining the technical process of media production and publication.
Subscribe
If you would like to be informed of the upcoming schedule, please subscribe. If you are interested in presenting at the Speaker Series, contact us directly. 
Thank you to all of the distinguished speakers of the 2022 Berkeley AMI Speaker Series.
What an incredible year, filled innovative approaches to digital storytelling.
We are currently scheduling the 2023 season. If you would like to be notified of the next live event, please subscribe for details.
Developing Your Eye For Street Photography with Richard Koci Hernandez
Emmy Award winner Richard Koci Hernandez shares how he prepares and sets up to take a photo that tells a compelling story.
To learn more about telling stories with photos from master class instructor, Richard Koci Hernandez, join Visual Storytelling with Photography.
How To Create Captivating Videos For Social Media with Caroline Scott
Caroline Scott, a journalist and highly experienced mobile media trainer, shows you how to shoot and edit short-form video stories on your smartphone.
To learn more from master class instructor, Caroline Scott, join Video for Content Creators.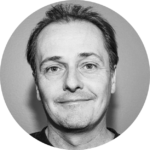 How To Approach A Data Visualization Story with Peter Aldhous, Ph.D.
Dr. Aldhous, is an award-winning science and investigative reporter, specializing in science journalism, data analysis and visualization.
To learn more from master class instructor, Dr. Aldhous, join Advanced Data Analytics & Visualization.