Data is ubiquitous and the ability to work with it and reproduce at scale is crucial for businesses and nonprofits alike. The advanced data analytics and visualization online course is for those who've reached the limits of point-and-click software and are ready to explore the power of processing, analyzing and visualizing data with code. In today's employment ecosystem, this is a key skill for professionals.
In this online advanced data analysis and visualization workshop we will work hands-on with the programming language R, in particular a group of packages known as the "tidyverse." R is used by top data scientists, newsrooms, social scientists, economists, and academia. It is an advanced language for data analysis, data visualization, and data science used for decision making in business or for developing stories to communicate complex data. The tidyverse has introduced a streamlined, consistent way of writing code that can be mastered by anyone who is comfortable thinking logically and strategically. You don't need to be a programmer to benefit from this course.
Software required: RStudio (free version) and R.
Key Takeaways:
Learn R syntax, dig into data analysis and data visualizations using tidyverse packages.
Acquire, clean, and process data.
Create reproducible analyses and reports.
Work with geographic data and mapping in ggplot2.
Make composite charts, maps, and animations, for print and the web.
Certificate (PDF) upon completion of the course requirements.
LinkedIn badge to add to your profile to signify accomplishment of the course.
You'll enjoy personalized small cohort instruction from expert instructors. This program is a skill-based learning experience for intermediate to advanced professionals. You'll work hands-on with the tools and create real examples of charts, graphs and maps. This assures that you will be able to apply your new skill set immediately upon completion of the course.
Participant Experience
We're With You All The Way
Work With Experienced Instructors & Mentors
Our instructors are industry leaders, with years of experience in their field. Every member of the team has the academic savvy and real-world practice to support you on your learning journey. Gain the full value of their expertise through in-depth discussions, thoughtful and critical feedback on assignments, and live sessions.
Make Connections With A Professional Network
You'll gain access to an international network of professionals building skills similar to your own. We provide a range of opportunities to engage with your peers and instructors, share insights, and keep the conversation going long after you've completed the course.
We offer a supportive space for collaboration. We've designed the learner's journey to help you fully engage with course content, guided by seasoned professionals and a community of peers and mentors. Engage in live group discussions, complete lessons, and share and offer feedback on assignments.
Practice & Apply New Skills
We believe the best way to learn new skills is by doing. Gain mastery of each new skill through creative activities designed to hone your learning, culminating in the final project. At the end of this course, you will have gained in-depth knowledge, a new skill set, and a portfolio to immediately apply to your job or new career.
This workshop is ideal for people interested in a rapid-paced, immersive experience in advanced data analysis tools & techniques: scientists, data analysts, communication professionals, journalists, educators, faculty, and those interested in becoming proficient in learning to communicate data with clarity.
Need help justifying this training to your employer? Please check out our customizable document.
Instructors & Facilitators
Instructors subject to change.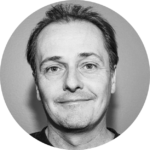 Peter Aldhous is a science journalist with BuzzFeed News and data visualization instructor for Berkeley Advanced Media Institute. He also teaches data visualization at the Graduate School of Journalism at UC Berkeley, investigative reporting in the Science Communication Program at the UC Santa Cruz, and has developed online training materials in data visualization for the Academy of Art University in San Francisco.
Peter got his start in journalism in 1989 as a reporter for Nature in London, fresh from a PhD in animal behavior. Later he worked as European correspondent for Science, news editor for New Scientistand chief news and features editor with Nature, before moving to California in 2005 to become New Scientist's San Francisco bureau chief. Peter works with free tools to 'interview' and visualize data – from scans of his own DNA to records of human conflict. His projects include web apps that have explored the local and global history of climate change, and the number of Earth-like planets in our galaxy. Peter's articles have won awards from bodies including the Association of British Science Writers, the Society of Environmental Journalists, and the Wistar Institute.
This is an advanced level workshop. Participants must have prior experience with data analysis. No previous coding expertise is required, but you should come prepared to learn how to turn questions about data into code. If you are comfortable writing Excel formulas, this is the next step.
For beginners interested in learning the basics of data visualization please see Data Visualization for Storytellers.
All participants must have their own laptop for use during this online course. It must be WiFi ready. Note that a Chromebook WILL NOT work and Lenovo laptops are known to be incompatible with some software used in this course.
Prior to the course start date, you will receive more information with a list of software to install. It is reported that work laptops often do not allow new installation without admin permission. Some software even require up-to-date operating system to run. Thus, it is important to have everything installed in advance.
Participants must be comfortable with technical subjects and learning in a fast-paced environment.
Proficiency in English.
Course Access Period
Access to the course environment, and all content therein, will close within three months of the course open date. (Course open date occurs the week before published start date.) After the course access period, the course environment is closed permanently, and registered participants will no longer have access to the course environment or its content. Please note the exact closure date upon entering the course environment.
Cancellation & Refund Policy
Online course registrations may be canceled for a full refund of fees paid less 10%. The request for cancellation must be made no later than 10 days in advance of the course start date and provided in writing to advancedmedia@journalism.berkeley.edu. 
Transfer Policy
If you wish to transfer your paid registration to another online course you will be placed on a future course waiting list. The request for transfer must be made not later than 7 days prior to the course start date and provided in writing to advancedmedia@journalism.berkeley.edu. No refunds or discounts are granted in a course transfer.
Re-Enrollment Policy
If a course participant wishes to repeat an online course in which they have previously enrolled, they may re-enroll in a future cohort at a discount of 15% off the current standard registration rate. This policy applies to those registered participants who, for any reason, could not complete their course within the 90-day course access period.