Advanced Data Mapping
Maps tell us the "where" of the story in a glance. They are an effective visual tool for communicating ideas, explaining complex concepts, illustrating relationships or for telling a story.
Advanced Data Mapping is a two-day, hands-on certificate workshop that will allow users to take geodata in common formats and then process it to reveal the stories it contains. Participants will learn to create visually stunning, interactive maps from complex information.
Course Overview
You will learn:
To display geographic data in QGIS and to use geocoding for creating static maps;
To process geodata with QGIS/GDAL;
To display the processed data in digital format over an online base map;
To create a multi-layered online maps using Leaflet;
To import real time data from a web API and display it with customized styling.
To use and apply advanced mapping tools such as QGIS, CartoCSS and CartoDB/Torque for creating highly interactive, data driven maps.
You'll enjoy personalized small class instruction from expert instructors. This program is an applied learning experience for intermediate to advanced practitioners in data mapping. You'll work hands-on with the tools and create real examples of interactive maps. This assures that you will be ready to apply your new skill set immediately upon completion of the workshop and leave with concrete examples of highly effective illustrated stories with data visualizations.
Who Should Attend?
Advanced Data Mapping is ideal for career professionals interested in a rapid-paced, immersive experience in advanced data visualization mapping tools & techniques. This workshop is ideal for marketing communicators, analysts, scientists, journalists, web editors, educators and those interested in advancing their data visualization mapping skills.
Instructors & Facilitators
Instructors subject to change.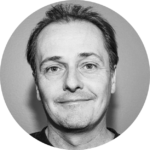 Peter Aldhous is a science journalist with BuzzFeed News and data visualization instructor for Berkeley Advanced Media Institute. He also teaches data visualization at the Graduate School of Journalism at UC Berkeley, investigative reporting in the Science Communication Program at the UC Santa Cruz, and has developed online training materials in data visualization for the Academy of Art University in San Francisco. Peter got his start in journalism in 1989 as a reporter for Nature in London, fresh from a PhD in animal behavior. Later he worked as European correspondent for Science, news editor for New Scientistand chief news and features editor with Nature, before moving to California in 2005 to become New Scientist's San Francisco bureau chief. Peter works with free tools to 'interview' and visualize data – from scans of his own DNA to records of human conflict. His projects include web apps that have explored the local and global history of climate change, and the number of Earth-like planets in our galaxy. Peter's articles have won awards from bodies including the Association of British Science Writers, the Society of Environmental Journalists, and the Wistar Institute.
Where?
UC Berkeley Graduate School of Journalism
121 North Gate Hall, Berkeley, CA 94720
Prerequisites
-This is an introductory online course; no previous podcasting experience is required.
-Ability and willingness to learn new skills and work with new equipment and software.
-Basic computer literacy.
Questions & Additional Information
We currently do not offer transfer option between workshops.
Cancellations must be received in writing by email to advancedmedia@journalism.berkeley.edu.
Cancellations made up to 15 days prior to the start of the program registered for will receive a refund of all monies less the $275.00 cancellation fee. We are unable to refund any fees for registrations cancelled within two weeks of the start of training.
Failure to appear for the training will result in forfeiture of the full course fee.
Changes to the registration at anytime are only by approval of Berkeley Advanced Media Institute administration.
The Berkeley Advanced Media Institute reserves the right to cancel or reschedule training due to low enrollment or other unforeseen circumstances beyond the control of Berkeley Advanced Media Institute. In this case, applicants are entitled to a full refund of the program fee.
The Berkeley Advanced Media Institute will advise applicants at the earliest opportunity of changes to schedule program. The Berkeley Advanced Media Institute is not responsible for travel fees, or any expenses incurred as a result of cancelled programs.
If you purchased your class through CourseHorse, then our Refund & Cancellation policy applies to your purchase.
We currently do not offer transfer option between workshops.