Data Visualization For Storytellers
Data visualization skills are essential to analyzing and communicating large amounts of information for understanding and decision making. A good visualization will tell a story by highlighting the important trends and outliers working to combine analysis with great storytelling.
This online certificate-earning course is a hands-on, skills-based course that will take you step-by-step through the process of cleaning, analyzing and processing data. You will work with curated public data sets to build a portfolio of charts, graphs and maps using tools such as Tableau Public, Datawrapper and OpenRefine among many more. Learn how to create effective graphs, charts and maps through practical lessons and personal feedback from your instructor. Evaluating the stories you tell with data and improving each iteration with support from your cohort of diverse professionals. You'll work to apply skills and practice techniques as you deepen your knowledge in data visualization.
Feel like this course is too basic? Do you have experience in data visualizations and want to take your skills to the next level? Advanced Data Analytics & Visualization may be your course.
Understand how to clean, analyze and process big data.
Use Tableau Public and other open source data visualization tools to create a portfolio of charts, graphs and maps using public data sets.
Learn how to choose the best visual element for visualizing data sets.
Collaborate with your cohort to evaluate data stories using best practices.
Earn a certificate (PDF) upon completion of the course requirements.
Receive a LinkedIn badge to add to your profile to signify accomplishment of the course.
A basic understanding of spreadsheets is suggested. This Spreadsheet tutorial is a good primer.
Meet Your Instructors & Facilitators
Instructors subject to change.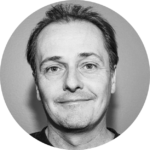 Peter Aldhous is a science and data reporter based in San Francisco. He also teaches investigative reporting and data visualization in the Science Communication Program at the University of California, Santa Cruz. Peter got his start in journalism in 1989 as a reporter for Nature in London, fresh from a PhD in animal behavior. Later he worked as European correspondent for Science, news editor for New Scientist and chief news and features editor with Nature, before moving to California in 2005 to become New Scientist's San Francisco bureau chief.  From 2015 to 2022 he worked on the science desk at BuzzFeed News. Peter's maps of U.S. government surveillance flights were named data visualization of the year in the Global Editors Network's 2016 Data Journalism Awards; that project also won gold for data journalism and the overall Most Beautiful prize in the 2016 Kantar Information is Beautiful Awards. A follow-up project, which used machine learning to identify further covert spy planes, won the JSK Fellowships award for innovation in GEN's 2018 Data Journalism Awards. He was a finalist in the Online category of the National Academies of Sciences, Engineering, and Medicine 2019 Communication Awards for his data-driven coverage of wildfires.
Course Format
This online course includes hands-on, interactive learning activities designed to build your skills as you progress through each week. Lessons include videos, audio files, tutorials, case studies, discussions and assignments.  
Weekly Live Sessions
Each week your cohort will interact with the instructor during  scheduled live-sessions. These Zoom sessions are in real-time to give you access to expert instruction, personalized support, and the network of professionals we are known for at Berkeley Advanced Media Institute.
Weekly live sessions for the course are held on Wednesdays, 9:00am - 10:00am PST. The live sessions are recorded for future viewing.
Syllabus
Participant Experience
We're With You All The Way
Work With Experienced Instructors & Mentors
Our instructors are industry leaders, with years of experience in their field. Every member of the team has the academic savvy and real-world practice to support you on your learning journey. Gain the full value of their expertise through in-depth discussions, thoughtful and critical feedback on assignments, and live sessions.
Make Connections With A Professional Network
You'll gain access to an international network of professionals building skills similar to your own. We provide a range of opportunities to engage with your peers and instructors, share insights, and keep the conversation going long after you've completed the course.
We offer a supportive space for collaboration. We've designed the learner's journey to help you fully engage with course content, guided by seasoned professionals and a community of peers and mentors. Engage in live group discussions, complete lessons, and share and offer feedback on assignments.
Practice & Apply New Skills
We believe the best way to learn new skills is by doing. Gain mastery of each new skill through creative activities designed to hone your learning, culminating in the final project. At the end of this course, you will have gained in-depth knowledge, a new skill set, and a portfolio to immediately apply to your job or new career.
Sample Visualizations by Peter Aldhous, Berkeley Advanced Media Institute, Data Visualization for Storytellers instructor.
Data Visualization for Storytellers is ideal for people interested in a rapid-paced, immersive introductory experience in data visualization tools and techniques. This workshop is ideal for communication professionals, marketers, journalists, educators, analysts in government or finance, and those interested in learning to communicate data with clarity and creativity.
Standard registration is $840 USD. Early registration is encouraged as courses fill up quickly. Discounts for early registrations are applied automatically at checkout. 
Team Training: Teams of five or more may be eligible for a group discount. Contact us for details.
This is an introductory online course; no previous experience is required.
Ability and willingness to learn new skills and work with new equipment and software.
Basic computer literacy.
Please read this prior to registering for the course.
All participants must have a computer or laptop for use during this course.
Computer or laptops must be WiFi ready. Note that a Chromebook WILL NOT work and Lenovo laptops are known to be incompatible with some software used in this course.
All participants must have access to required software and tools.
If participants are using an employer owned computer, they must have administrative privileges in order to regularly download and update software.
Proficiency in English (instruction is delivered in English).
Prior to the course start date, you will receive more information with a list of software to install. It is reported that work laptops often do not allow new installation without admin permission. If you are using an employer owned computer, you must have administrative privileges in order to regularly download and update software.Some software requires an up-to-date operating system to run. It is important to have everything installed in advance of the course start date.