Data Visualization For Storytellers
Data Visualization for Storytellers is a two-day, hands-on certificate program focused on communicating complex information with visually appealing charts, graphs, and maps. Participants will learn to create clear and meaningful visualizations using publicly available data, tell stories with interactive maps, and create beautiful and effective graphs and charts.
Course Overview
You will:
Learn to employ good graphic design techniques with data visualizations.
Create interactive data illustrations for the web.
Learn to create interactive maps.
Learn the importance of and how to clean and process data for visualizations.
Employ best practices for using interactive databases to create visualizations and maps that tell stories with data.
Get hands-on experience using Tableau Public, and other data visualization tools.
You'll enjoy personalized small class instruction from expert instructors. This program is a skill-based learning experience for beginners in data visualization. You'll work hands-on with the tools and create real examples of charts, graphs and maps. This assures that you will be able to apply your new skill set immediately upon completion of the workshop.
Our Training At Your Location
Interested in having us bring our training to your organization? Please contact Vicki Hammarstedt at vhammarstedt@berkeley.edu
My favorite part is the principles of design for data visualization. It's impressive we could go through so much content in only two days.
Catherine H.
Project Director
I was very happy to get some of the conceptual framework for data visualization as well as lots of time working to create them.
Emily V.
Program Coordinator
Who Should Attend?
Data Visualization for Storytellers is ideal for people interested in a rapid-paced, immersive experience in data visualization tools & techniques. This workshop is ideal for scientists, communication professionals, journalists, bloggers, educators, faculty, and those interested in becoming proficient in learning to communicate data with clarity and creativity.
Need help justifying this training to your employer? Please check out our customizable document.
Instructors & Facilitators
Instructors subject to change.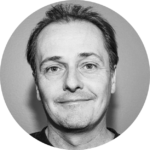 Peter Aldhous is a science journalist with BuzzFeed News and data visualization instructor for Berkeley Advanced Media Institute. He also teaches data visualization at the Graduate School of Journalism at UC Berkeley, investigative reporting in the Science Communication Program at the UC Santa Cruz, and has developed online training materials in data visualization for the Academy of Art University in San Francisco. Peter got his start in journalism in 1989 as a reporter for Nature in London, fresh from a PhD in animal behavior. Later he worked as European correspondent for Science, news editor for New Scientistand chief news and features editor with Nature, before moving to California in 2005 to become New Scientist's San Francisco bureau chief. Peter works with free tools to 'interview' and visualize data – from scans of his own DNA to records of human conflict. His projects include web apps that have explored the local and global history of climate change, and the number of Earth-like planets in our galaxy. Peter's articles have won awards from bodies including the Association of British Science Writers, the Society of Environmental Journalists, and the Wistar Institute.
Tuition
$985 USD
We encourage team work! Bring a colleague or friend and receive additional tuition discounts. Contact Alexandre Bui at alexandre.bui@berkeley.edu for more information.
When?
New Date Coming Soon
8:45 a.m. to 4:00 p.m. Instruction begins promptly at 9:00 a.m.
Morning coffee and catered networking lunch provided.
Where?
UC Berkeley Graduate School of Journalism
121 North Gate Hall, Berkeley, CA 94720
Requirements & Prerequisites
This is a beginner-level workshop.
All participants must bring their own laptop for use during this workshop running MacOS, Windows, or Linux. It must be WiFi ready. Note that a Chromebook WILL NOT work and Lenovo laptops are known to be incompatible with some software used in this course.
2 weeks prior to the course, you will receive a preparation email with a list of software to install. It is reported that work laptops often do not allow new installation without admin permission. Some software even require up-to-date operating system to run. Thus, it is important to have everything installed in advance.
If your laptop is not in working order during the workshop, you may rent one from us. The fee for rental is $45 per day (from 9AM – 4PM).
Participants must be comfortable with technical subjects and learning in a fast-paced environment.
Knowledge of Google spreadsheets and Google drive is required. Need a refresher? Try our Spreadsheet Tutorial
A personal Google/Gmail account is required for this class. Please remember to bring your user login and password.
Proficiency in English.
Questions & Additional Information
In-depth information can be found on our Frequently Asked Questions page. No video or audio recordings of the materials presented are permitted in any workshop.