In this interactive online certificate course led by professional science journalists, you will develop the skills to communicate data and complex information through visualizations that tell a story. Learn how to create effective graphs, charts and maps through practical lessons in the online platform and personal feedback from your instructor.
In the world of big data, data visualization skills are essential to analyzing and communicating large amounts of information for decision making and ease of understanding. A good visualization will tell a story by highlighting the important trends and outliers working to combine analysis with great storytelling.
Working with our curated public data sets, you will build a portfolio of charts and maps using Tableau Public, Datawrapper and Google Sheets. Evaluating the stories you tell with data using our online learning platform, improving each iteration with support from your cohort of diverse professionals.
Understand how to clean, analyze and process big data.
Use Tableau Public and other open source data visualization tools to create a portfolio of charts, graphs and maps using public data sets.
Learn how to choose the best visual element for visualizing data sets.
Collaborate with your cohort to evaluate data stories using best practices.
Earn a certificate (PDF) upon completion of the course requirements.
Receive a LinkedIn badge to add to your profile to signify accomplishment of the course.
A basic understanding of spreadsheets is suggested. This Spreadsheet tutorial is a good primer.
Course Format: This online course includes hands-on, interactive learning activities designed to build your skills as you progress through the 4 weeks. Learning modules, assignments and discussions are an important part of your learning journey in this course. Each week your cohort will interact with the instructor for a one-hour live synchronous session on Wednesdays from 10 a.m.-11 a.m. PST. The sessions are recorded and uploaded to the learning platform for future viewing.
Participant Experience
We're With You All The Way
Work With Experienced Instructors & Mentors
Our instructors are industry leaders, with years of experience in their field. Every member of the team has the academic savvy and real-world practice to support you on your learning journey. Gain the full value of their expertise through in-depth discussions, thoughtful and critical feedback on assignments, and live sessions.
Make Connections With A Professional Network
You'll gain access to an international network of professionals building skills similar to your own. We provide a range of opportunities to engage with your peers and instructors, share insights, and keep the conversation going long after you've completed the course.
We offer a supportive space for collaboration. We've designed the learner's journey to help you fully engage with course content, guided by seasoned professionals and a community of peers and mentors. Engage in live group discussions, complete lessons, and share and offer feedback on assignments.
Practice & Apply New Skills
We believe the best way to learn new skills is by doing. Gain mastery of each new skill through creative activities designed to hone your learning, culminating in the final project. At the end of this course, you will have gained in-depth knowledge, a new skill set, and a portfolio to immediately apply to your job or new career.
Data Visualization for Storytellers is ideal for people interested in a rapid-paced, immersive introductory experience in data visualization tools and techniques. This workshop is ideal for communication professionals, marketers, journalists, educators, analysts in government or finance, and those interested in learning to communicate data with clarity and creativity.
Instructors & Facilitators
Instructors subject to change.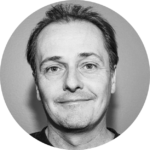 Peter Aldhous is a science journalist with BuzzFeed News and data visualization instructor for Berkeley Advanced Media Institute. He also teaches data visualization at the Graduate School of Journalism at UC Berkeley, investigative reporting in the Science Communication Program at the UC Santa Cruz, and has developed online training materials in data visualization for the Academy of Art University in San Francisco.
Peter got his start in journalism in 1989 as a reporter for Nature in London, fresh from a PhD in animal behavior. Later he worked as European correspondent for Science, news editor for New Scientistand chief news and features editor with Nature, before moving to California in 2005 to become New Scientist's San Francisco bureau chief. Peter works with free tools to 'interview' and visualize data – from scans of his own DNA to records of human conflict. His projects include web apps that have explored the local and global history of climate change, and the number of Earth-like planets in our galaxy. Peter's articles have won awards from bodies including the Association of British Science Writers, the Society of Environmental Journalists, and the Wistar Institute.
Early registration: $765. Register before 11:59 p.m. PST Aug. 22 to receive early registration pricing.
This is an introductory online course; no previous experience is required.
Ability and willingness to learn new skills and work with new equipment and software.
Basic computer literacy.
Please read this prior to registering for the course.
All participants must have a computer or laptop for use during this course.
All participants must have access to required software and tools.
If participants are using an employer owned computer, they must have administrative privileges in order to regularly download and update software.
Proficiency in English (instruction is delivered in English).
Course Access Period
Access to the course environment, and all content therein, will close within three months of the course open date. (Course open date occurs the week before published start date.) After the course access period, the course environment is closed permanently, and registered participants will no longer have access to the course environment or its content. Please note the exact closure date upon entering the course environment.
Cancellation & Refund Policy
Online course registrations may be canceled for a full refund of fees paid less 10%. The request for cancellation must be made no later than 10 days in advance of the course start date and provided in writing to advancedmedia@journalism.berkeley.edu.
Transfer Policy
If you wish to transfer your paid registration to another online course you will be placed on a future course waiting list. The request for transfer must be made not later than 7 days prior to the course start date and provided in writing to advancedmedia@journalism.berkeley.edu. No refunds or discounts are granted in a course transfer.
Re-Enrollment Policy
If a course participant wishes to repeat an online course in which they have previously enrolled, they may re-enroll in a future cohort at a discount of 15% off the current standard registration rate. This policy applies to those registered participants who, for any reason, could not complete their course within the 90-day course access period.